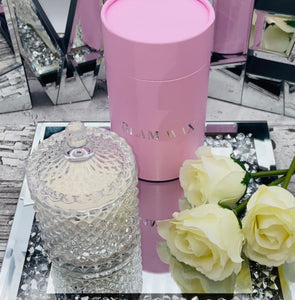 Velvet Rose & Oud Luxury Candle
Regular price
£15.00
£0.00
Unit price
per
Unwind and relax with this gorgeous Glam Candle.  Velvet Rose & Oud has luxurious scents of red roses and indulgent oud on a base of velvety sandalwood and amber.
Made with a natural vegetable mineral wax blend, this candle gives an approximate burn time of 30 hours.
Candle holds 220g of wax.
Contains  (E)-1-(2,6,6-Trimethyl-1,3-Cyclohexadien-1-YL)-2-Buten-1-One, 2,2,6-Trimethyl-a-Propylcyclohexanepropanol, Acetylcedrene, Alphaisomethyl Ionone, Benzyl Salicylate, Citronellol, Dihydro Pentamethylindanone (DPMI), Eugenol, Methyl 2,6,10-Trimethylcyclododeca-2,5,9-Trienyl Ketone, Nerol.
---