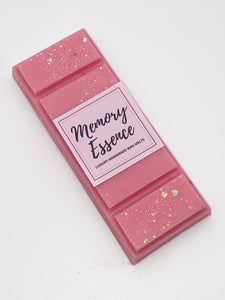 Belle Wax Melt Snap Bar
Regular price
£2.75
£0.00
Unit price
per
Our Belle wax melt is inspired by a well known perfume.  Featuring a bouquet of fabulous florals - think precious orange blossom, jasmine and iris, as well as fruity blackcurrant and pear.  It's refreshingly modern, sharpened with an undertone of patchouli, vanilla and praline.  

Please note colours and glitter may vary as each product is handcrafted.
Net weight approx 55g

Contains: 3,7-dimethyl-1,6-octadien-3-yl acetate, Benzyl Salicylate, Limonene, Linalool, Methyl2,6,10-trimethyl-2,5,9-cyclododecatriene-1-yl ketone, [3R-(3a,3ab,6ab,7b,8aa)]- octahydro-6- methoxy-3,6,8,8-tetramethyl-1H-3a,7-methanoazulene, a-Methyl-1,3-benzodioxole-5- propionaldehyde, cis-3-Hexenyl salicylate. 
 Memory Essence Wax Melts
All our wax melts are hand poured using natural soy wax, biodegradable, non-toxic glitter and a dash of mica for that extra shimmer.
Each snap bar is highly scented with the maximum fragrance load for our wax and will send an amazing aroma around your home, for up to 50 hours.
Suitable for vegans and cruelty free.
All products we sell are CLP compliant and are labelled with allergen information following EU Regulations.
 Wax Melts Safety
Remove all packaging and place 1-2 sections of wax in the well of your burner.
Place burner on a heat proof surface.
Only use tealights with a maximum burn time of 4 hours and let your burner cool down before relighting a further tealight.
Keep out of reach of children and pets.
Do not expose to draughts.
Do not move burner whilst lit.
Never leave a burning candle unattended.
Never pour wax down the plug hole.
---