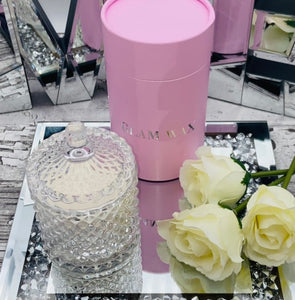 Blush Sands Luxury Candle
Regular price
£15.00
£0.00
Unit price
per
This sweet tropical fragrance has fruity notes of coconut, strawberry and banana paired with soft jasmine and rose with a spicy vanilla base.
Made with a natural vegetable mineral wax blend, this candle gives an approximate burn time of 30 hours.
Candle holds 220g of wax.
Contains 3-(2H-1,3-Benzodioxol-Yl)-2-Methlpropanal, 4-(1-Methylethyl)-Cyclohexanemethanol, Anise Alcohol, Cyclamen, Aldehyde, ethyl Methylphenylglycidate, Eugenol, Geraniol, Heliotropine, Hexyl Salicylate, Linalool, Neryl Acetate, P-Anisyl Acetate, Pentadecalactone, Tetrahydrolinalool, Trans-Rose Ketone-2, Undec-10-Enal.
---